EDIT MAIN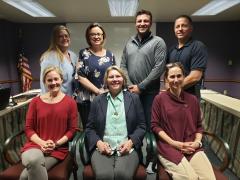 Board Of Education Members
President - Linda Wegner, lwegner@dps170.org
Vice President - Kelly Flanagan, kflanagan@dps170.org
Secretary, Brad Sibley, bsibley@dps170.org
Rachel Cocar, rcocar@dps170.org
Melissa Gates, mgates@dps170.org
JR Humphrey, jhumphrey@dps170.org
Rachael Gehlbach, rgehlbach@dps170.org
Board Of Education Policy Manual
Board Meeting Minutes can be accessed via the Approved Board Minutes link in the upper right menu on this page or by clicking here.
Board meeting information will be at Boardbook.org, and the public view can be accessed by clicking here. There, you can also find meeting agendas for upcoming regular and special meetings of the Board of Education.
The logon site for administrators and board members to Boardbook is here.
All Dixon Board of Education members have successfully completed their Open Meetings Act training as required by P.A. 97-504. Board of Education meetings are held at 6:00 p.m. at the Dixon Public School District Administrative Center located at 1335 Franklin Grove Road, Dixon, Illinois unless otherwise indicated.
Below are the dates and locations for the 2018-2019 DPS Board of Education meetings.
January 15, 2020
February 12, 2020
March 11, 2020
April 15, 2020
May 13, 2020
June 17, 2020
August 12, 2020
September 16, 2020
October 21, 2020
November 18, 2020
December 16, 2020
January 20, 2021
February 17, 2021
March 17, 2021
April 21, 2021
May 19, 2021
June 23, 2021