Parents & Community Members: You're Invited to a Virtual Webinar! Commonly Used Apps (Part I) Brought to you by Kwame Raoul, Illinois Attorney General Wednesday, March 10th or Thursday March 11th @ 6:30p.m.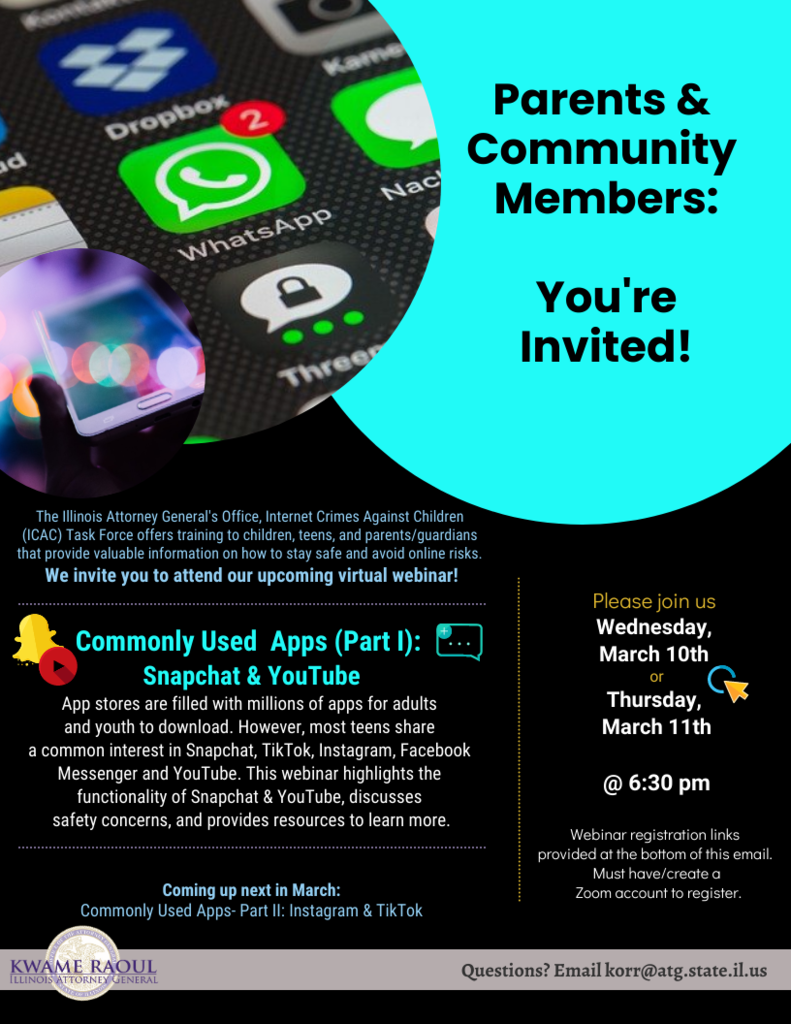 Students, please remember to bring your Chromebooks fully charged to school each day so you can maximize time spent in class. We can provide help in the TechZone in case of emergencies, but we are confident that you can help do your part as well. Thank you!

Dixon Public Schools is having a Special Board Meeting on Thurs., February 25th at 6:00 p.m. The District is returning to an in-person meeting format and will also live stream the meeting. There will be a limited number of seats (13) available for those in attendance. Once all seats are filled, no one will be allowed inside to attend the meeting. Masks must be worn by all who are attending on-site. Those wishing to submit public comment need to email them to the Board President, Linda Wegner at
lwegner@dps170.org
and the Superintendent, Margo Empen at
mempen@dps170.org
by Noon on Thursday, February 25, 2021. Public Comment received after this time, may not be guaranteed to be read aloud at this meeting.

Candidate Forums for Dixon City Council & Dixon School Board are coming up in March.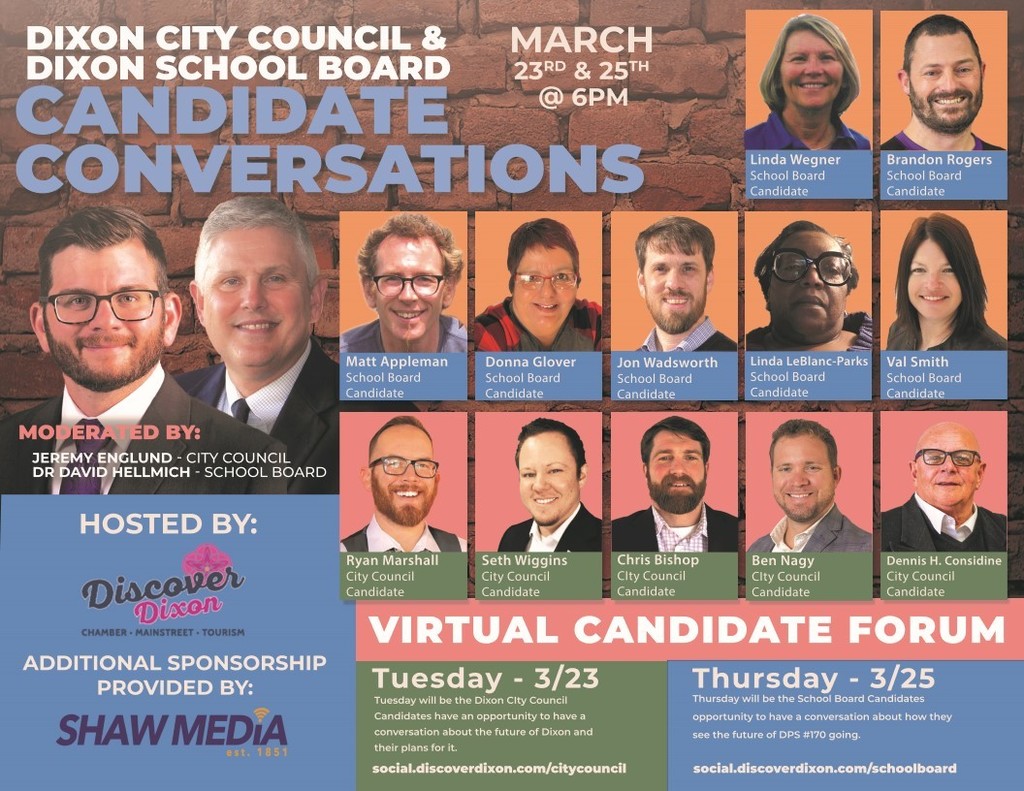 Upcoming DHS Sport Seasons: Boys soccer (3/1), football (3/3), and girls volleyball (3/8) all begin soon! As a reminder, all participants MUST have a current physical on file and register on 8to18 in order to practice. Sport coaches will finalize first week(s) schedules soon.


Parents: Click on the links below for this week's COVID data. This data reflects those currently out as COVID positive or under quarantine. Please fill out the Daily Symptom Reporting Form for students attending onsite.
https://5il.co/psen
https://5il.co/pseo

The Board of Education voted last night to have students in grades 6-12 return to school Monday through Thursday from 7:45 am to 1:00 pm beginning on Monday, March 8, 2021. Fridays will be utilized to connect with students who need academic and social-emotional support both remote and on-site. Detailed plans will be shared with parents from RMS and DHS in the near future.

Tomorrow (2/19/21) is a Remote Learning Planning Day for Dixon Public Schools. Students will not be onsite tomorrow. Please check Seesaw and Canvas for teacher information/activities for tomorrow.
Buddy Bags Parents: Weekly bags are still available to those who requested them for their student(s). Drive through distribution on Thursdays from 5-6pm in parking lot of St. Paul Lutheran Church 421 S. Peoria. Or bags can be picked up on Fridays from 9-1 in the church lobby. Additional special gifts are regularly included on Thursdays to further assist families. If you have questions you may call Joyce at 815-440-6290.

Congratulations to Kathleen, our Regional Spelling Bee winner! #gopurple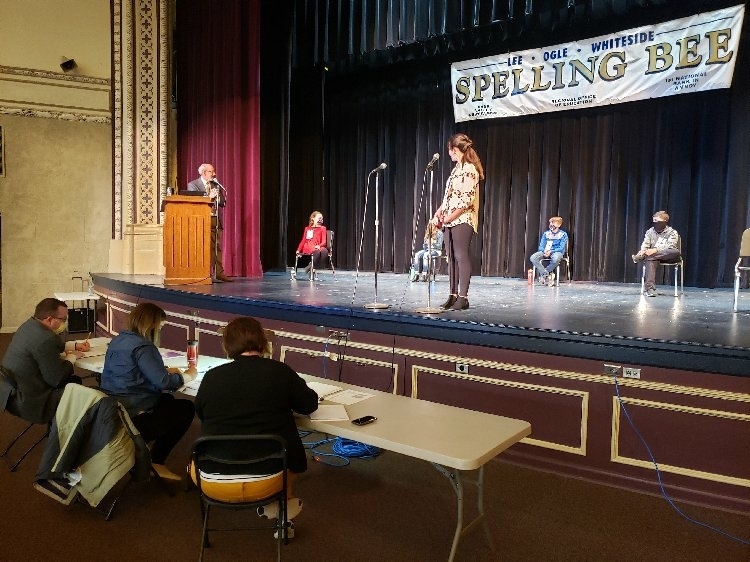 We have 5 great contestants for the Regional Spelling Bee.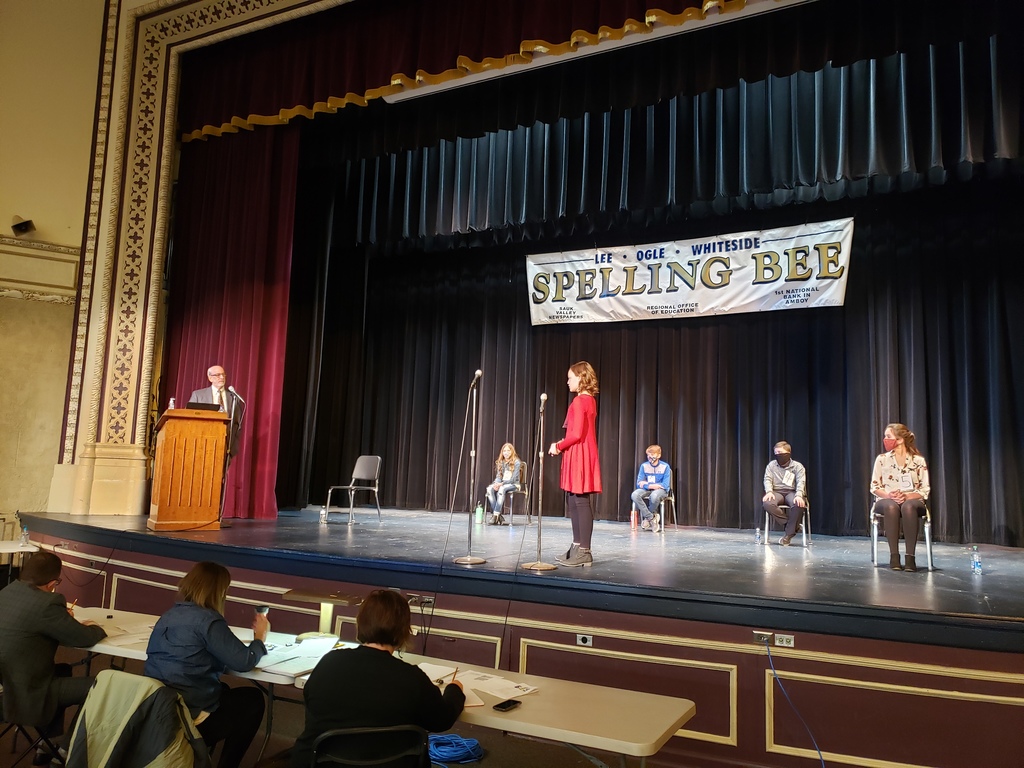 Dixon High School is pleased to host the Regional Spelling Bee for Lee-OIgle-Whiteside. The Bee will be live on Youtube at this link at 10am on 2-18-2021:
https://youtu.be/UoLtlaDV3J8


The February Board of Education meeting will be streamed live on 2-17-21 at 6pm. Use this link to view the stream on Youtube
https://youtu.be/iwTK4XXNFRM
Parents we would like to announce that our district has received approval to conduct on-site rapid Covid-19 testing. A letter of instruction has been posted to our website under Covid-19 updates. You will need to complete a consent form through your parent portal account for your student. The form can be found on the upper left-hand corner of your student summary view under registration forms. Only students who are symptomatic will be tested. A valid consent form must be on file and you will be notified when your student is being tested.
https://www.dps170.org/article/213395

The 5Essentials Parent Survey is open. Click on this link to take the survey:
https://survey.5-essentials.org/illinois/?target_name=parent
We need 20% parent participation minimum to get reports back from ISBE. Here is the up-to-date response rates so far. Parent response rates for schools in Dixon USD 170: Dixon High School: 1% Jefferson Elem School: 1% Madison School: 10% Reagan Middle School: 5% Washington Elem School: 16%

Dixon Public Schools will be remote learning today, 2/16/21, due to the inclement weather and road conditions. Students need to check Seesaw and Canvas for learning.